New Zealand's Best Fly-Fishing Locations And Fly Fishing Guides
Fly fishing New Zealand's finest Rivers
To follow is Glendeer's personal New Zealand fly fishing location guide giving local and inbound anglers a little information on some of New Zealand's finest fly-fishing regions and districts.
Over the years we at Glendeer have extensively explored, fished, hunted, and guided throughout New Zealand's stunning South Islands Back Country, this experience and knowledge we have gained is reflected in our well earnt reputation in presenting some of New Zealand's South Islands finest fly-fishing guided expeditions and fishing adventures.
Fly fishing New Zealand's South Island
New Zealand's South Island offers a huge variety of classical trout fishing waters in which to explore and fish, we can openly say all districts and fishing locations offer a variety of excellent trout fishing opportunities. All prime trout fishing waters in these regions offer something very unique in their each and individual way to the angler, beautiful free-stone rivers, extraordinary remote head water streams, unnamed crystal-clear spring creeks, classical High-Country burns and tarns and all encompassed by New Zealand's renowned spectacular wilderness scenery, truly the angler's paradise.
Professional Fly-Fishing Guides for New Zealand's South Island
New Zealand's Professional Fly-fishing Guides are noted for their pure skills and professionalism, a number of guides are known for showing that extra passion for exploring, and discovery just pure adventure, these guides will hold that extra knowledge for New Zealand's best fly-fishing regions and special waters, experienced dedicated guides undoubtedly taking it to the next level, their intimate knowledge of what a guide would call New Zealand's best Blue Ribbon Waters will see you fish on some incredible Back Country and Foot Hill Streams surrounded by some of the world's most pristine environments.
Whilst there is great information on all thing's trout fishing New Zealand, time spent with a professional guide is highly recommended. A New Zealand professional fly-fishing guide will bring you up to speed on good fly-fishing techniques, show you how to best stalk the river verges and locate stationery and feeding trout, discuss fly selection and leader construction, best ways to approach trout you are about to fish to, line lay and drifts and current lines, all essential factors to successful and enjoyable fishing.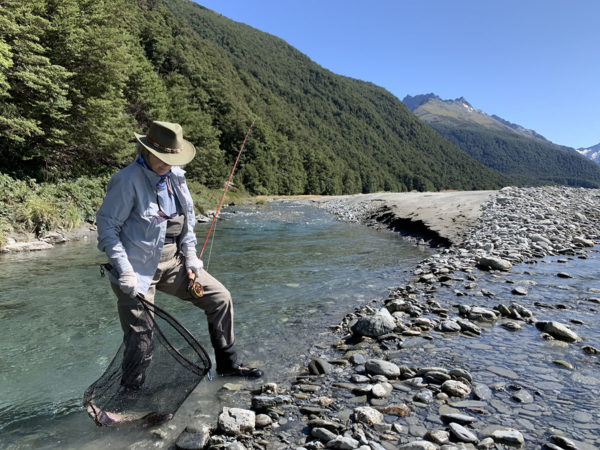 Need A Professional Guide and information for your location Contact us at Glendeer, all inquiries are welcomed
There are a few districts, valleys, rivers, and streams that respectfully stand out from the rest, most guides will have their treasured gems and undisclosed streams they look forward to getting their clients to and when prime weather and river conditions are presented, planned strike missions to these magical waters are a must and well worth that extra effort and posable travel time to experience such epic locations with fishing to match.
Guides that show extensive knowledge on not only their main guiding zones and areas but also showing extensive knowledge on their outer fly-fishing boundaries and neighbouring regions are more likely to place the angler on some of New Zealand's finest blue-ribbon waters, plenty of river options and depth to guiding resources are key to Fly-fishing New Zealand.
Fly fishing regions of New Zealand's South Islands
So quickly moving through the South Island disclosing regions and towns that offer great fly-fishing opportunities and bases, most regions will have a dedicated guide so grab a accredited guide for some time I cannot express this enough, the value of fishing and connecting with a professional guide gathering information along with fishing techniques and experiencing New Zealand's world class trout fishing and locations with a dedicated fly fishing guided will be worth every minute.
Fly-fishing Tekapo And Twizel New Zealand's South Island
Tekapo Trout Fishing Guides
Tekapo Fly Fishing Guides New Zealand, Experienced Locale Tekapo Fishing Guides
Lake Tekapo is located in the very middle of the South Island of New Zealand. There is a series of large lakes up in this renowned district known as the Mackenzie High County, the rivers that flow from these lakes and stunning alpine catchments offer some of New Zealand's best trout fly fishing opportunities. I have spent a large part of my early fishing day's exploring and fishing a high number of these superb fly fishing streams and rivers, the variety of water types up in this fisherman's paradises really makes this location one of New Zealand's finest regions for the fly fisher, large Brown and Rainbow trout taking large dry flies from the surface in crystal clear waters surrounded by vistas of spectacular landscapes and snow caped mountain back drops these epic fly fishing experiences will haunt your dreams for all the right reasons. Tekapo fly fishing guides offers a seemingly endless amount of rivers, streams, small mountain creeks, spring creeks, high mountain tarns to explore and fish, fly fishing Tekapo is renowned for its wild big browns and Rainbow trout fisheries and the dynamic landscapes of the Tekapo fly fishing region truly offers something special,   you will find yourself fishing in one of New Zealand's most pictures fly fishing settings you could imagine. Fly fishing in the Lake Tekapo region is up there on our priority list when weather conditions permit us to visit this New Zealand trout fly fishing treasure. We have many great fly fishing tour options that include this location, our intimate knowledge of guided fly fishing Tekapo and out-lying boundaries will insure a great fly fishing experience is had.
As with all fly fishing locations in New Zealand we highly recommend using a professional fly fishing guide. Professional registered fishing guides all hold valid department of conservation concessions and insurances.
Twizel Trout Fishing Guides
Twizel Fly Fishing Guides New Zealand, Experienced Locale Twizel Fishing Guides
Twizel fly fishing offers some fun free-stone streams and is the gateway to many other fine fly fishing rivers and river systems. While in my teens we use to have a family lakeside holiday home on the shores of Lake Ohau and a lot of time was spent trout fishing in this beautiful location, in fact some of my very first guiding days were up in the head waters of Lake Ohau, this picturesque area offers some fine trout fly-fishing waters.
Generally the rivers up in the Ohau catchments seem to have a lot higher numbers of Rainbows than Browns. A couple of remote spring feeder streams do produce some action-packed days on cascades, mainly Rainbows when conditions are prime but yes there are also some large big Browns to be had. Again this is another location on the back bone of the Alpine Divide and the winds tend to get vacuumed from the West to east, the ever waiting North West wind always seem to be not far away .
There are a couple of New Zealand fly fishing locations that hold a very high reputation for their oversized Brown and Rainbow trout, and there still exists the odd unspoken stream that is worth exploring in favourable season conditions, Twizel fly fishing guides are well tuned to the ever changing fishing moods and conditions of the Twizel fly fishing district.
As with all fly fishing locations in New Zealand we highly recommend using a professional fly fishing guide. Professional registered fishing guides all hold valid department of conservation concessions and insurances.
The Best of New Zealand's South Island Fly-fishing Guides
The given information about New Zealand fly fishing locations is just a little introduction to fly fishing The South Island of New Zealand.  The combination of classical small townships, professional fly-fishing guides services, sensational rivers and beautiful changing scenery truly sets the scene for an extraordinary  fly-fishing experience.
For information on Fly-fishing New Zealand
Fly-fishing locations
Find a Professional Fishing Guide
Book a Guide
Place's to stay
Please contact us at Glendeer Guides:
Glendeer Guides New Zealand
Omarama, Twizel, Tekapo, Fairlie, Timaru
South Island, New Zealand
Paul McLauchlan
Jude McLauchlan