About Fly Fishing New Zealand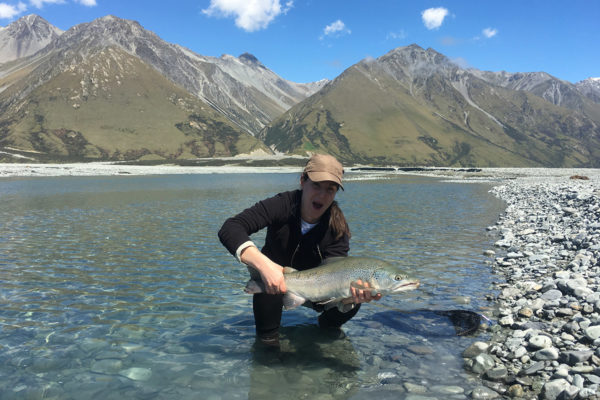 New Zealand fly fishing guides, Professionally Guided Fly-Fishing Excursions, Day / Multi Tours and Fly-Fishing Adventures in New Zealand's spectacular South Island.
Wild Brown & Rainbow Trout on the fly, Sensational Alpine streams and Rivers, Captivating Mountain Scenery, dedicated professional accredited guides, the foundations are laid that will insure a premium fly-fishing experience is delivered.
Presenting dry flies, big terrestrials Bugs, Cicada's, Hoppers, Spider imitations, delicate dry's, small nymph's all to sighted trout in clear mountain streams, this is the pinnacle of fly fishing for trout in New Zealand, New Zealand's best fly fishing guides
Client feedback is testament to our high level and rate of client satisfaction and enjoyment experienced with us at Glendeer, this is your guarantee to an exceptional fly-fishing experience in New Zealand.
New Zealand holds a high reputation from the international fly-fisher as one of the world's best fly-fishing destinations for experiencing wild Brown and Rainbow trout on the fly. This spectacular country New Zealand truly offers the complete fly-fishing experience, this is a fly fishing destination that offers wilderness back country fishing adventures at its purest, a trout fishing holiday that caters for the adventuress advance fly fisher to the complete beginner, family fly fishers to fly fishers with non fishing companions. Our success and high reputation for delivering New Zealand's finest fly fishing experiences is put down to our accredited professional team and the incredible trout fishing rivers and streams that encompasses our main guiding region. Glendeer fly fishing guides offers professionally guided fly fishing day trips and tours, all inclusive multi day fly fishing expeditions accompanied with campouts, backcountry fishing huts and cabins along with five star fly fishing luxury accommodations, a fly fishing experience to fit everyone's request.  From the backbone of the main mountain divide that runs the entirety of New Zealand's South Island, sensational clear mountain rivers and streams are formed and as they make their way flowing into alpine lakes and coastal waters some of the world's finest trout fly-fishing waters are encountered. Clear headwater streams, free stone rivers, enchanting spring waters, high country burns and tarns all offer seemingly endless opportunities for the fly-fisher and guide to explore and fish, your guides intimate knowledge of these sensational rivers and stream locations, and all relative weather, river and optimum fishing conditions will ensure a premium experience is presented.
New Zealand is well known for its amazing fly-fishing opportunities for wild brown and rainbow trout, it also holds a respectable reputation for the high standard your professional fly fishing guides work to.