South Island NZ Fly Fishing Guides
Your Professional Fly-fishing Guide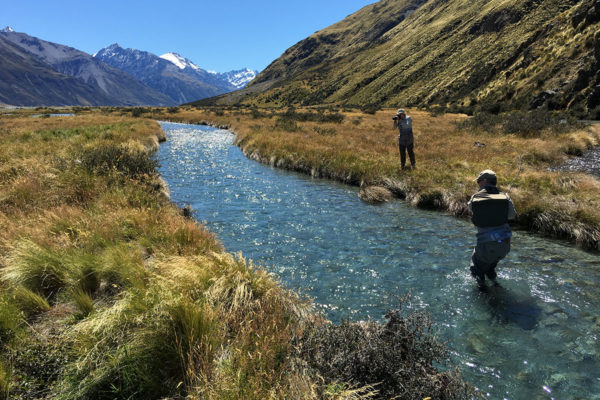 Glendeer Fly fishing Guides is owned and operated by Paul & Jude McLauchlan.
Glendeer Guides holds an exceptional reputation for delivering New Zealand's finest fly-fishing expeditions, a professional team dedicated to your experience, enjoyment, and overall success.
New Zealand's finest fly-fishing locations
Primary fishing waters are the beautiful free stone Rivers, head-water Streams, Burns and Spring Creeks located in the stunning Backcountry Highlands in the South Island of New Zealand.
New Zealand fly fishing Guide, Paul McLauchlan
Accredited Professional fly-fishing guide and specialist in fly-fishing to sighted trout in New Zealand's distinguished clear mountain waters. Dedicated in delivering New Zealand's best fly-fishing expeditions in the picturesque South Island of New Zealand.  Professionally guiding since 2000.
Member of NZPFGA.
Extensive knowledge of New Zealand's finest trout fishing district Central South Island and surrounding regions:]
Head-water specialist, alpine streams, freestone mountain rivers, incredible clear spring creeks, classical high-country burns are all our specialty.
The Glendeer Team shows and instinctive ability to connect with clients on a professional and personal level, humor and enthusiasm comes naturally for these Kiwis of the Back Country.
Long standing relationships with station/ranch owners giving great access to New Zealand's finest back-country rivers, an extremely important factor when accessing these world class remote streams.
Fly fished and guided extensively throughout New Zealand's South Island's incredible Wilderness Back Country.
Holds Department of Conservation concessions to fish National Parkland and DOC preserves.
Elected Councilor of New Zealand's Fish & Game Council.
First Aid Certified.
Helicopter Safety Certified.
Carries Emergency Re-locator Beacon and Satellite phone.
Holds Full Insurance Requirements.
Provides quality fly Fishing equipment as required.
Your Guide:  Paul McLauchlan
New Zealand Professional Fly Fishing Guides South Island
With a deep passion for the greater outdoors, his accredited professional experience in the fly-fishing and hunting environment ensures an experience that will showcase and deliver the very best of New Zealand's fly-fishing and hunting opportunities.
Glendeer offers an amazing variety in New Zealand's Fly-fishing, day tours and adventures, all inclusive itineraries as well as personalized custom itineraries.  As like New Zealand's best professional guides their pure depth in resources is truly immense, holding incredible knowledge of New Zealand's distinctive river valley systems, spectacular mountain ranges along with their wild trout fisheries and magnificent hunting, all paired with a unique understanding of the surrounding beautiful native forests and incredible topography of which encompasses this Island paradise in the South West Pacific.
The Glendeer team shows an instinctive ability to connect with clients on a professional and personal level, humor and enthusiasm comes naturally, presenting an enjoyable – safe and rewarding time is first and foremost.
Personal Interests:  Fly Fishing – Hunting – Surfing – Diving – Spearfishing – Photography – Hiking, just to name a few!
The Fly Fishing Day: NZ Fly Fishing Guide
From the start of the day your guide will be looking over weather patterns and forecast, checking river conditions, and sorting access requirements. On reaching our intended fly-fishing location focus turns to best suited attire for the day such as waders or wet wading, gear and lunch stowed away, safety brief given, rods lined up, now the guide tunes his eyes and attention on the surrounds and stream.
Standing on the stream verge the guides attention is set on locating trout, this ability is what truly sets guides and anglers apart, the guides ability to locate trout among the confusion of ripples and rapids in high running water will truly astonish you.  New Zealand fly fishing guides are world recognized for their ability in finding trout in rivers and streams especially in moving waters.
The guides intimate knowledge of these epic fly-fishing rivers and their ever-changing environments, weather conditions and fishing moods will help ensure your time on the river is enjoyable, informative, and ultimately extremely rewarding.
The guides genuine ability to connect with clients and present not only a rewarding time but an enjoyable time is always first and foremost.